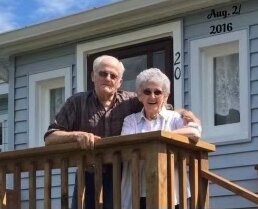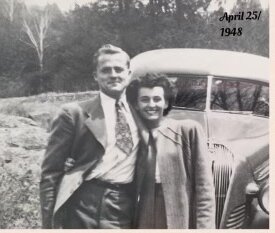 Graveside Service
2:00 pm - 2:40 pm
Thursday, May 26, 2022
Lorneville Cemetery
1475 Lorneville Road
Saint John, New Brunswick, Canada
Graveside Service

Get Directions
Interment
2:30 pm - 2:40 pm
Thursday, May 26, 2022
Lorneville Cemetery
---
Lorneville , New Brunswick, Canada
Interment

Get Directions


Obituary of Velma Mildred Keirstead
My brother and I lost our dad on April 8, and then our mom on April 21, 2022. They would have celebrated their 71st wedding anniversary in September. Both were adamant that they did not want to go to a nursing home. On March 23 Dad left the house to go to Bobby's Hospice and that same day Mom had a stroke.
Our Dad, well we couldn't have had a better one. He stood for all that was gracious and good. Born in Collina, N.B. to Margaret (Chamberlain and Oliver w. Keirstead on March 17, 1924.
He lost his father at a young age and stepped up to help his mom run the farm and grammy got a job as Post Mistress. Dad enlisted and off to WWII he went. He was a gunner on HMS Puncher (Aircraft carries aka floating coffin). He got to travel the globe and serve in many campaigns. He received many medals and commendations.
Once back from war, continued his schooling and that's what brought him to Saint John, here he met mom at a skating rink. That was it, marriage, two kids later when life was well on its way. Dad worked for the Port, NB Tel, and retired from Red Rose Tea.
Our mom, I could write a book, and it possibly could be a bestseller. Born in Saint John to Samuel G. and Irene (Bent) February 27, 1928.
She was a force to be reckoned with, for sure, especially if she was right. Over the years we heard "Square off" many times and another saying, "I may be wrong but seldom am". Mom was involved with church her whole life and even cut a record singing on the radio.
Some of you may remember her as your dance teacher. Dad gave up his garage every Saturday and then in later years she didn't teach as many and those of us that continued, we danced in the dining room, yes, dining room. Every Monday furniture was lifted out and ¾ plywood with tile was laid down.
We danced/entertained at Legions, which we received many medals for, opened the imperial theatre, up home tonight, time for juniors, and even maritime fiddling contests.
Mom went to work when we were in our teens, at Kmart, then on to City Hall where she retired.
Our dad was a close to the chest kind of guy and would be saying "is all this necessary", and our mom was always camera ready and loved a fuss.
Dad was predeceasedby his parents, Oliver W., and Margaret (Chamberlain) Keirstead, sister; Betty (Keirstead) Crealock,and brothers; Gil Keirstead, and Ron Keirstead,
Mom was predeceased by, her parents, Samuel G., and Irene (Bent) McAllister, and sister Norma (McAllister) Bean.
They are survived by, one son; Ken Keirstead, and one daughter; Brenda J. Long, 5 grandchildren, Angela (McMurray) Sparks, Michael Keirstead, Ryan Lohnes, Erin (Keirstead) Blagden, and Matthew Keirstead, seven great grandchildren, Andrew Gilbert, Braeden Gilbert, Carter Blagden, Quinn Blagden, Genevieve Keirstead, Nase Lohnes, and Asher Lohnes, and many nieces and nephews.
Our Family would like to thank Dr. D. Scott; Dr. Bewick; all the Doctors and staff of Bobby's Hospice and SJRH.
Castle Funeral Home, 309 Lancaster Ave, Saint John, N.B. (634 1701) have been entrusted with the arrangements. There will be a graveside service on Thursday, May 26, 2022 at Lorneville "Seaview" Cemetery at 2:OOPM for family and friends. Online condolences can be made at www.castlefh.ca


Share Your Memory of
Velma