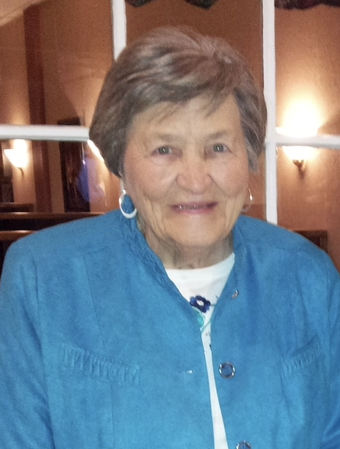 Obituary of Joan Marie O'Brien
It is with heavy hearts that we announce the passing of our dear mother Joan O'Brien on October 30, 2023. Mom was the fourth child of six, born in Saint John in 1932 to parents George "Boey" and Anne (nee McDevitt) Lawlor.
Mom's family grew up in the Saint John city centre. She had three brothers and two sisters, predeceased by all siblings and their spouses except younger sister Shirley Lawlor of Boston, Ma. George (Irene, Molly Malone), Gert (George LeBlanc), Bill (Barb Gorman), Joe (Sharon McManus). Mom was also predeceased by her parents, husband Fred O'Brien, son John O'Brien, grandchildren Elizabeth Boyce and Emma Cote, in-laws Francis and Frances O'Brien, Marion and Arie Blok, Greg and Carol O'Brien, great nephew, Josh LeBlanc and many aunts, uncles, and cousins.
Mom made a few lifelong friends at a young age. Audrey McCluskey (Arthurs) was one of these friends. They went from elementary School to nursing school together. Up until recently Mom and Audrey still exchanged Birthday cards.

Too young to go into training in 1949 after high school graduation from St Vincent's Girl's School, Mom and Audrey both found jobs for a year. Mom worked at the 5 and 10. In 1950 they started the Three-year nursing program at St Joseph's Hospital.
After graduation in 1953, mom was one of the few lucky girls to get a full-time job, hers was in the operating room at St Joe's. Mom worked until she and Dad started their family after being married in 1957. They moved to Quinton Heights to raise their family and she still lived there until she passed.
Joan was a stay-at-home mother until all her children finished school. Joan resumed her nursing in the O.R. at St Joe's after taking the nursing refresher course.

Mom was a beautiful cook and baker. She was also very talented when it came to decorating her home. She taught herself how to upholster furniture and she also took a woodworking course.
Mom loved to go to "the States" as often as she could. It was very helpful that her younger sister Shirley lived in Boston (and still does).
Mom also travelled to Ireland to find her family roots. She was a member of the Irish Cultural Society.

When mom wasn't preparing meals or baking, she could be found looking after and chauffeuring around many of her 16 grandchildren.
They have fond memories of Nan O'B singing and making up songs, telling stories, and cooking the best chicken nuggets and french fries.
Joan is survived by her 4 children: son Patrick (Susan) O'Brien and his children: Michael (Jennifer) O'Brien, Julia (Lance) Betts, John (Terri-Lynn) O'Brien, Patrick (Chelsea) O'Brien, Peter (Maddie) O'Brien; son Michael (Pamela) O'Brien and his children: Megan (Jeff) Cote and Tom (Amy) O'Brien; daughter Joan (Tony) Boyce and her children Catherine (John) Foote, Joe (Vicky) Boyce, Karen (Katie) Boyce, and Ellen (Lou) Boyce; her son who predeceased her, John O'Brien, and his surviving wife Teresa O'Brien and their children Sarah (Ryan) Butler, Stephen (Jill) O'Brien; and son Joe (Lorna) O'Brien and his children: Gregory (Sabrina) O'Brien, Sean O'Brien, and David O'Brien.
Joan is also survived by her adored great-grandchildren: Breighton, Montgomery, McKinley and Lawlor O'Brien; Johnnie, Isabel, and Mercer Betts, Tuck O'Brien, Brooke and Reed Cote, Dylan and Cohen Butler, Ava O'Brien, Jacob O'Brien, and one on the way; and also, Marijke Blok whom mom considered a second daughter.
Mom volunteered at Rocmaura Nursing Home, on the auxiliary for many years and volunteered at the Musical Festival every year.

Mom is also survived my many nieces and nephews. Dave( Diane) LeBlanc, Peter (Joanne) LeBlanc , Gary (Jackie) LeBlanc, Rick ( Krista) LeBlanc, Ann (Dave) Robertson, Bob (Karen) Lawlor, George (Tanya) Lawlor, Jim (Nathalie) Lawlor .
Andrew (Leslie)Lawlor, Marijke Blok, Dan (the late Suzanne) O'Brien, Mary (the late Blaine) Henderson and Susan O'Brien- Doty( Jim) .

Mom was very social and most loved attending parties at Pat and Laurie Roberts' home for every occasion imaginable. Mom had many good friends, to name a few, Pat and Laurie Roberts, the late Mary Ann Patterson, Judy Halford, Anne Desmond, the late Margaret Stephen.

A very sincere Thankyou to Mom's family Doctor Linda Stephenson. We give credit to her great care and attention to mom for helping to give Mom these many years. Also, we would like to thank Monsignor Sheehan for his dedication in visiting Mom when she could no longer attend Mass. This meant a lot to Mom and to our family.

Mom will be greatly missed by all of us. Rest in peace our dear Mama. We love you and we will miss you. Until we meet again.
Resting at Castle "Fallsview" Funeral Home (506) 634-1701 309 Lancaster Ave., Saint John NB, visitation for Joan will be held on Thursday, November 2, 2023, from 2:00 - 4:00 PM and 6:00 – 8:00 PM. A Mass of Christian Burial will take place at the Our Lady of the Assumption Parish (360 Dufferin Row, Saint John NB) at 12pm on Friday, November 3, 2023. Following the mass Joan will be laid to rest at Holy Cross Cemetery.
Donations in Joan's memory can be made to Sophia House, Multiple Sclerosis Society, Rocmaura, Canadian Cancer Society, or to the charity of your choice. For those unable to attend the funeral, the family has provided the opportunity to participate via Livesteam. To make online condolences, or access the Livestream link, please visit www.castlefh.ca


Share Your Memory of
Joan