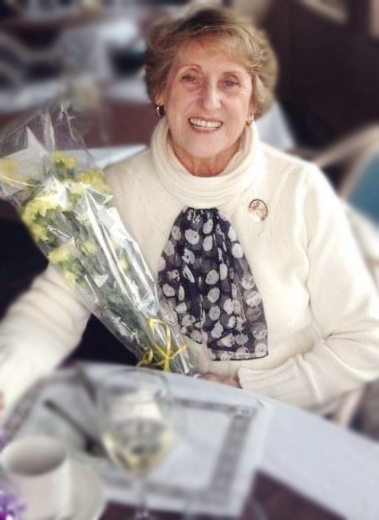 Visitation
11:00 am - 12:45 pm
Friday, March 31, 2023
Church of The Good Shepherd
668 Manawagonish Road
Saint John, New Brunswick, Canada
Visitation

Get Directions
Memorial Service
1:00 pm - 1:45 pm
Friday, March 31, 2023
Church of the Good Shepherd
668 Manawagonish Road
Saint John, New Brunswick, Canada
(506) 635-8145
Memorial Service

Get Directions


Obituary of Gloria Rosamonde Jennings
It is with deep sorrow and great love that the family of Gloria Rosamonde Jennings, age 87, mourn her passing on Saturday, March 18, 2023, at the Saint John Regional Hospital with her family by her side. Born in Saint John, NB on April 29, 1935, Gloria was a daughter of the late Willard and Sarah Gladys (Hughes) Fillmore, and the beloved wife and true love of George Cecil Jennings.
Gloria was active and creative throughout her life, as a child she loved to perform with siblings and friends putting on what she announced as "The Big Show". She learned to sing in church and formally studied both piano and dance. She enjoyed sports and played volleyball for Saint John Vocational School (Harbour View High) from where she graduated in 1954. While still in high school, Don Townsend recruited her to headline with his orchestra, singing big band tunes. Gloria loved music, often playing piano while serenading her children to sleep. She was a member of the 'Saint John Rockettes' dance troupe. Her love of dance was shared by her daughter and many hours were spent sewing outfits for performances. Gloria loved to dance with her true love Cecil, and they were known to 'cut a rug' with their jive dancing.
Gloria was a lifelong parishioner of St. Jude Anglican Church until it was deconsecrated in 2014. She sang soprano in the choir, taught Sunday school and volunteered on the Vestry. She was often asked to share her beautiful voice at weddings, funerals, and special events. As an active Royal Canadian Legion Branch 69 associate member, she was frequently invited to participate in Remembrance Day ceremonies. Gloria was renowned for donning a WW II uniform and entertaining veterans with her vocal renditions of classic war tunes. Volunteering came easy, as charity canvasser or fundraising skater, and as a Harbour View Alumni Association member and later Alumni President.
Gloria was a lady and a truly modern woman, who juggled a home, three children, and a full-time job in the transportation industry. Most importantly, she was an amazing mother, who taught her children to respect others regardless of difference, to accept themselves and explore their individual creative talents, to be courageous and stand tall in the face of adversity, and to speak their truth and chase their dreams. GG, as known by her great-grandchildren and grandchildren, loved them dearly, greeting them with her big smile, cherishing their moments together, and celebrating their growth, learnings, challenges, and achievements.
A lifelong learner and advocate of the 'do it yourself' approach, Gloria tackled difficult home projects well into her 70's. Having a green thumb, Gloria loved spending time in the gardens she created at each homestead, a love she discovered with her father. Expanding her musical talents, she picked up the guitar at age 52, inspiring family members to join her. When Gloria retired at age 62 as the Office Supervisor, she was the most senior employee with 33 years of service at CN Marine (Digby Ferry Service). After retiring, she took computer courses and learnt to navigate social media to keep up with her grandchildren's escapades.
Gloria is survived by her husband, Cecil of Grand Bay/Westfield, NB, one son, Gordon W. Jennings, of Saint John, two daughters, Lynn Ann Duffley, of Kiersteadville, NB, Gloria Dianne Jennings, of Nerepis, NB, seven grandchildren, Joshua (Sarah) Jennings, of Canmore, BC, Benjamin Jennings, of Saint John, Amanda (Jonathan) Westfield, of Grand Bay/Westfield, Nicholas (Karlene) Jennings, of Nerepis, Vanessa (Mike Curwin) Duffley, of Saint John, Mariah (Alaya Hausstein) Duffley of Sutton, QC, and Kirstin (James Durnnian) Duffley, of Quispamsis, NB, five great- grandchildren, Madison (Anthony Baker) Logan, Harmony Hebert, Jayden Westfield, Cash Jennings, and Lilly Westfield, three step great- grandchildren, Cody Russon, Taya Robertson, and Braden Russon, two sisters, Eleanor Jane Hopkins, of Petitcodiac, NB, and Barbara Ann (Raymond) Stinson, of Miramichi, NB, and chosen sister, Sister Rosemary Costley, of Saint John. Also, two sisters-in-law, Marion Fillmore of Musquash, NB, and Kathleen (Kay) Jennings of Milford, NB, one brother-in-law Robert (Bev) Jennings, of Red Deer, AB, and many nieces, nephews, and cousins.
Gloria is predeceased by her parents, Willard and Sarah (Hughes) Fillmore, one granddaughter, Rachael Dawn Duffley, one son-in-law, Mark George Duffley, two brothers, Willard E. (Bud) and Evelyn Fillmore, Clifford H. (Kippy) Fillmore, five sisters and spouses, Gladys M. and Lloyd Bartlett, Charlotte P. and George Craine, Frances P. and Louis Abbott, Shirley J. and Stephen Tchir, and Florence M. (Bonnie) and Bruce Colburn, and also three brothers-in-law Robert (Bob) Hopkins, Frank Jennings and Kenneth Jennings.
Gloria's family is thankful for all who helped comfort her and put a smile on her face. Also, for the care and support provided by the doctors and nursing staff of Saint John Regional Hospital's Cardiac ICU 5A North, Rocmaura Nursing Home - Hopewell Court, St. Joseph's Hospital Geriatric Evaluation and Management & Geriatric Transitional Care Units, and the Emergency Medical Services. A special thank you to Father Keith Joyce for his ministry and generosity these past months so Mom could feel the glory of her faith.
The arrangements are under the care and direction of Castle Funeral Home, 309 Lancaster Ave. Saint John, NB. (634 1701). A Celebration of Gloria's life will be held on Friday March 31, 2023 at the Church of the Good Shepherd, 668 Manawagonish Rd. Saint John, NB at 1:00PM. Visitation will take place on Friday, March 31, 2023 at the Church of the Good Shepherd at 11:30AM until service time at 1:00PM. Father Keith Joyce will officiate the service. Donations in Gloria's memory can be made to the Rachael Dawn Duffley Memorial Scholarship Fund (GSJCF), the Diabetes Association or a charity of choice, and are appreciated by the family. Online condolences can be made at www. Castlefh.ca


Share Your Memory of
Gloria