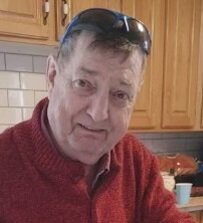 Obituary of Bradford Aubrey William Gaunce
Brad Gaunce passed away peacefully at his home on December 3, 2022. A resident of Grand Bay-Westfield his entire life, he was the son of Reva Gaunce (Causey) and the late Edward Gaunce.
He is survived by his mother, Reva Gaunce, girlfriend, Mary Mercer, his first wife, Vickie Pye-Gaunce, his brother and closest friend, Steve (Faye) Gaunce and six sisters: Chris (Dave) Tibbetts, Susan (Mike) Johnson, Joan (Carl) Godin, Brenda, Reva Gaunce-MacKinnon (Scott MacKinnon) and Teena (Stephen Gough). He is also survived by his three sons Bud (Laura), Jason (Laurie Ann) and Tony LaCouer. His five grandchildren: Grace, Griffin, his "bodyguard" Gwen, Abigail, and Leah. He is also survived by his many cousins, nieces and nephews who will remember him fondly.
He was predeceased by his father, Edward Gaunce.
Brad was a member of BAC Local 8, Bricklayers and Allied Craftsman for more than 25 years; making his mark on many buildings in Saint John and surrounding areas. He was a skilled tradesman who applied his trade as an art. Brad loved the outdoors, especially bird hunting and trout fishing. He enjoyed long drives - especially to visit his granddaughters, Abigail and Leah - with his partner, Mary, who rarely left his side. He also enjoyed tinkering in the garage on projects with his special helper, his grandson, Griffin. Brad loved his sons and his grandchildren more than anything in this world.
Family and Friends are invited to a Celebration of Life at Branch 22 Legion in Grand Bay -Westfield on Saturday, December 10th from 3pm – 6pm. Arrangements are in the special care of Castle Funeral Home in Saint John, NB. Donations can be made to a charity of the donor's choice.


Share Your Memory of
Bradford