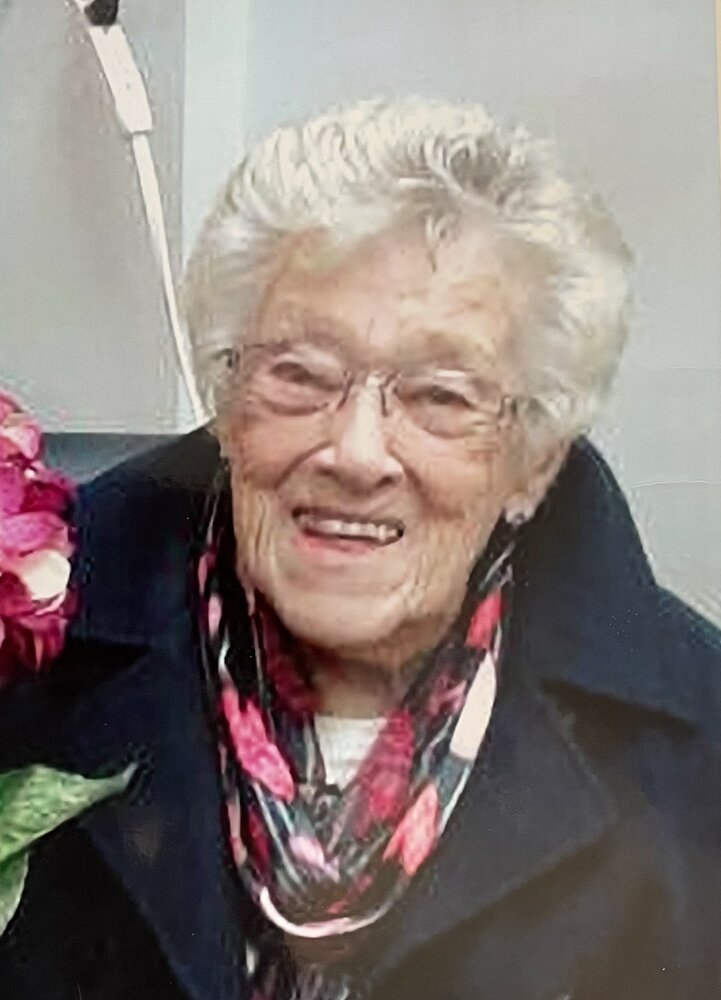 Obituary of Eileen Audrey Sweezey
It is with great sadness the family of Eileen Audrey (Wheaton) Sweezey wish to announce her passing on Saturday August 13, 2022, at Shannex Tucker Hall. Born in 1922, Eileen was a daughter of the late Henry Mansfield and Jane Ann (Harrison) Wheaton, and the widow of the late Mervyn Jardine Sweezey (2000).
Eileen is survived by her daughter, Sharon (James) D'Arcy, of Saint John, four grandchildren, Brian S. (Jennifer) D'Arcy, Dawna L. D'Arcy, Kira-Lee (Brian) Ellis, and Michael G. Bergstrom, four great grandchildren, Cameron Lauren D'Arcy, Annika Ellis, Berg Ellis, and Joel Ellis, and many nieces and nephews.
Eileen was predeceased by her parents, her husband, her daughter Joan Bergstrom (2022), sisters, Jean Cullins and Doris (Murphy) Stewart.
Eileen was born and raised in Saint John, was a graduate of Saint John Vocational School and grade 11 Commercial. She learned to play the piano and her favorite piece of music to play was the "Indian Love Call". A lover of music in all forms, often times when doing the dishes, she would sing harmony to our melody. In her twenties she became the wife of a military man and the mother of two girls Sharon and Joan. She taught us to love nature and we spent many wonderful weekends at our log cabin at Caribou Lake.
Throughout her life she was active, enjoying curling, bowling, and swimming…especially swimming when in her 70's, she swam with the Silver Dolphins Synchronized Swim Club in Fredericton. Being 100 years of age did not stop Eileen from propelling her wheelchair where ever she wanted to go within her long-term care complex. She was curious about everything, very sentimental and had a great sense of humor.
She loved to travel and took many trips to Alberta to visit with Joan (Joni's) family. Besides living in Saint John, Martinon, Fredericton, and Petawawa - living in London, England was a highlight especially when she and a friend attended the Queens Tea at Buckingham Palace. They took advantage of their proximity to Europe visiting France, Spain, Belgium; and the Vimy Ridge War Memorial. When in Jamaica, she got to swim with the real dolphins.
She would often say that she lived an uneventful life but enjoyed herself where ever she went no matter who she was with. She loved playing cards, was an excellent bowler and her favorite TV shows were old movies, The Toronto Blue Jays and curling. She laughed easily and often. She will be missed.
To celebrate her life, there will be an informal gathering at St. Mark's United Church, 50 Dexter Dr. Saint John, N.B., on Monday, August 22, 2022 from 7 to 9 PM.
Castle Funeral Home, 309 Lancaster Ave. Saint John, N.B. (634 1701) have been entrusted with the arrangements. There will be no visiting or funeral service at this time. Interment will take place at Black River, N.B. at a later date. Donations to the War Amps, Red Cross, CNIB, or the donor's choice would be appreciated


Share Your Memory of
Eileen