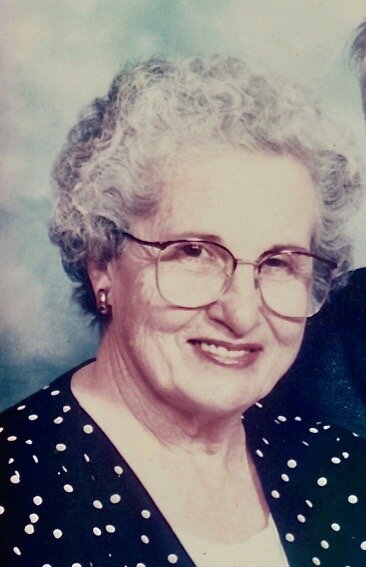 Celebration of Life
2:00 pm - 2:45 pm
Saturday, May 28, 2022
Anglican Church of the Resurrection
MacDonald Ave
Grand Bay Westfield, New Brunswick, Canada
Reception
2:45 pm - 3:30 pm
Saturday, May 28, 2022
Anglican Church of the Resurrection
Macdonald Ave
Grand Bay Westfield, New Brunswick, Canada
Interment
3:30 pm - 3:45 pm
Saturday, May 28, 2022
St. Peter's Anglican Church Cemetery
9862 NB-102
Woodmans Point, New Brunswick, Canada


Obituary of Agnes Jean Nearing
It is with sad hearts but happy memories to advise that on February 4, 2022 at Saint John Regional Hospital our mom Agnes Jean (Boyle) Nearing of Grand Bay- Westfield has taken on a new position as head baker and seamstress for our Lord. Mom was born on May 21, 1927 in Yarmouth, Nova Scotia and was always proud to state she was a Blue Noser. Mom is the daughter to the late George Allan Boyle and Rebecca M (Silver) Boyle. She was predeceased by her loving husband of 73 years, Edgar Merrill Nearing.
Mom's greatest passion was her family, she made sure we never went without food, clothes, hugs and kisses. I can honestly say I do not recall her ever raising her voice to us, perhaps it was the offer of the wooden spoon, broom or even our father's slipper which kept us in line and got her through the day.
She always had an assortment of baked goods ready for company, and if she knew your favorite you could be assured it was on the counter. She never took no thank you as an answer, as she put it "there is always room for dessert".
She loved ice cream but don't ask her if she would like to try yours, or you would not be getting it back.
There was not a craft she could not master, a stain she could not conquer, a tear or broken zipper she could not mend. Some of her favorite sayings were "that's all I know", "your looking good", even if she could not see you, and "be careful", I cannot help you was not in her vocabulary.
In total mom had six of us, Marilyn Holt, Pat Nearing, Keith (Linda) Nearing, Mark (Sana) Nearing, Carolin Nearing. Grand children Chuck Nearing, Jeff Nearing, Chris Nearing, Kevin Holt, Stephanie Hennig, Ryan Dryhurst, Amanda Nearing, Emily Nearing, Nathan Nearing. Six great grandchildren and lots of nieces and nephews. Mom is survived by her sister Glennie Boyce and is predeceased by her son Michael (Diane) Nearing, her siblings Stanley Boyle, Calvin Boyle, Leslie Boyle, Clark Boyle, Pauline Brown, Margaret Pilon and Stacey Watson.
In later life mom developed Parkinson's Disease, she did not allow it to hinder her in anyway. If you would like to make a donation to Parkinson's research or a charity of your choice it would be appreciated.
A celebration of life will be held Saturday, May 28, 2022 at 2:00 PM at The Church of the Ressurection in Grand Bay Westfield, reception to follow with interment in St. Peter's Cemetery. In the meantime please toast her by having an ice cream treat and send us a picture of you enjoying it to agnesnearing@gmail.com, and as mom says, be safe.


Share Your Memory of
Agnes