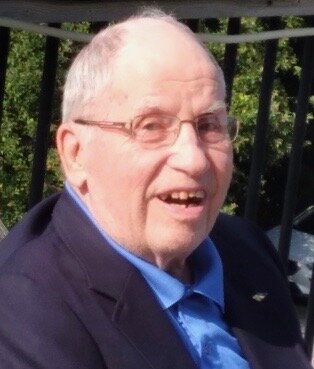 Obituary of Francis Michael Cogger
It is with much sadness that the family of Francis Michael Cogger announce his death. Frank died peacefully at his residence, Shannex Tucker Hall on January 11, 2022. He was serenaded to heaven by an assortment of music he loved. Frank was born on February 1,1927, in Norton, N.B., the son of the late Patrick Cogger and Alice (Mahoney) Cogger. He worked for Air Canada for 40 years, retiring in 1987 to enjoy a long and fulfilling retirement.
He is predeceased by his wife of 59 years Olive (Walsh) Cogger; his brothers, Joseph, Jerome and Larry and sisters Kaye White, Loretta Goguen and Margaret Casey. Frank is survived by his loving daughter Nancy Cogger; son in-law Mac Orr (Newmarket, ON), granddaughter Maggie Cogger-Orr (Auckland, NZ) and his sisters Pat Byrne (Southfield) and Mary Gallagher (Saint John) as well as many nieces and nephews.
He was a long-time member of Westfield Golf & CC, played goalie in the Moosehead old-timer hockey league and the pitcher in an "open age" slo-pitch league well into his 70's. Additionally he loved badminton and candlepin bowling, leading his team to the provincial championship in the 60's. Olive and Frank loved music and dancing and were active members of the Belles and Beaus for many years.
Frank was also generous with his time. He delivered Meals on Wheels for 25+ years, worked at the Catholic Book Store and was an active member of St Rose Parish. He had a wonderful sense of humour, delighted in a good joke and if you knew him, you were undoubtedly regaled with a story of growing up on the Cogger farm.
Special thanks to Mary Beth Cronin who was irreplaceable, Lori Gilliland, Sue Reid, Shannon Crilley and Dr. Mary Jarratt for their support and many kindnesses as well as the staff of Shannex Tucker Hall.
Arrangements are under the care of Castle Fallsview Funeral Home, 309 Lancaster Ave, Saint John, NB E2M 2L3, 506-634-1701. A Mass of Christian Burial will be held on Wednesday, June 8th 2022 at 12:00 Noon at Holy Spirit Parish, St. Rose of Lima Worship site. Interment will take place in St. Josephs Catholic Cemetery. Donations in Frank's memory can be made to the Alzheimer's Society, Canadian Cancer Society, or a charity of your choice. Online condolences can be made at www.castlefh.ca


Share Your Memory of
Francis