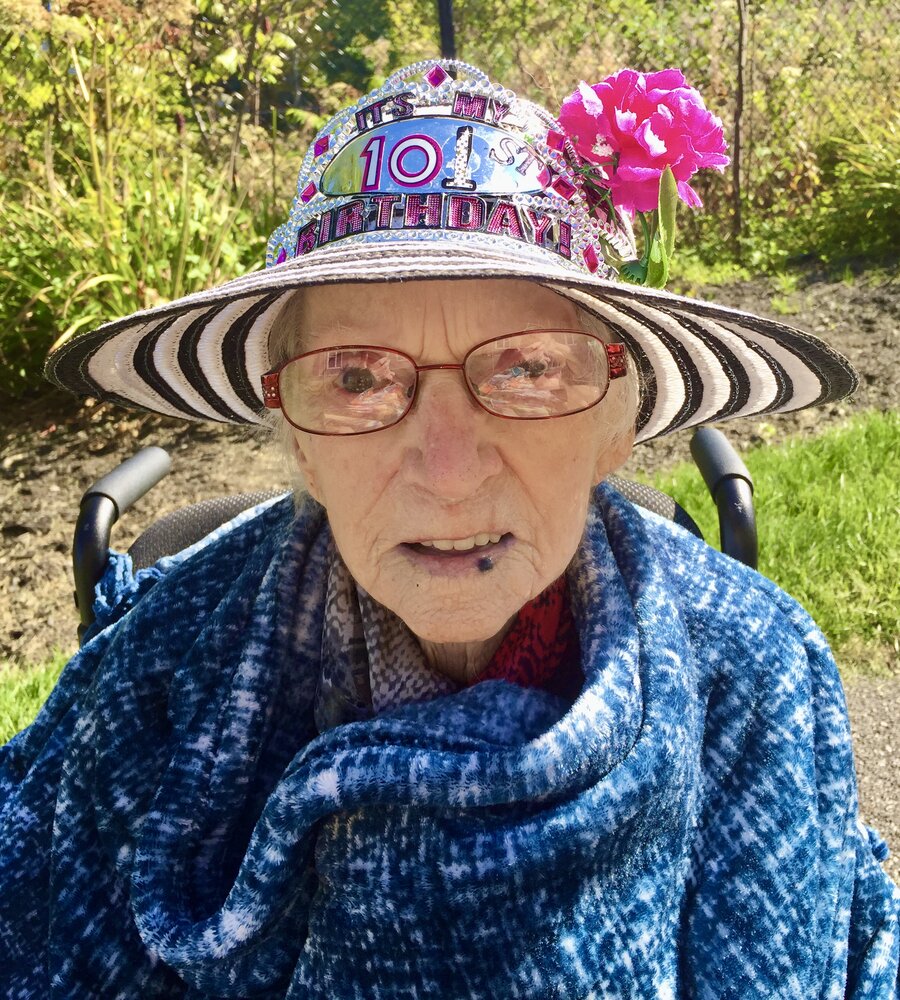 Obituary of Kathleen Mary Pickard
Kathleen (Kay) Pickard nee Cassidy
It is with great sadness, but in thankfulness for a life well-lived, we announce the passing of our Mother at 101years.
She was born in Maces Bay, Charlotte Co. NB, the youngest daughter of Irish Immigrants Daniel & Mary Cassidy. She was the last surviving member of her immediate family, having been predeceased by her brothers Lawrence, Fred, Bill and John, and sisters Agnes and Julia.
Mom moved to Saint John in 1942, where she married the love of her life Ronald Pickard, from Otis, York Co. NB. She was blessed with five children; Thelma, Cathy and Rosemary who have passed, and is survived by Charlie from Vancouver Island, and Theresa Wright of Millidgeville, and by her six grandchildren and five great grandchildren.
Mom was a very outgoing person, a classy dresser, who coordinated her outfits and matching hats right up until her passing. In her younger days she loved ice skating, bowling and writing poetry. She also enjoyed playing solitaire. She sometimes cheated a bit. Haha. She loved travelling. She visited Vancouver and the west coast many times, took the Alaska cruise, travelled over to England, Ireland and Europe. Also down to Peru in South America when she was in her 80's.
She was a lifelong member of the Catholic Women's League and a member of the Royal Order of Buffaloes women's club reaching the highest degree.
She was a devout Roman Catholic and a member of Stella Maris Catholic Church in East Saint John. She was also very proud of her Irish heritage and loved singing Irish Ditties and especially "When Irish Eyes are Smiling", up until the time of her passing, to the delight of all who were around her. A couple of her favorite Irish sayings were: "Our door always swings in" and "Here is your hat - what's your hurry?".
When asked recently what she thought about why she had lived this long, her comment was: "It's all about being "positive", age is just a number and it does not impact how I choose to live my life".
We wish to acknowledge our sincere thank you to all the staff and management at the Loch Lomond Villa (Villages - Dogwood House) Facility. They went above and beyond our expectations on a daily basis during her stay there.
Castle Fallsview Funeral Home, 309 Lancaster Avenue, Saint John, NB, 634-1701 are looking after her cremation arrangements. A Celebration of Life will be held at a later date.


Share Your Memory of
Kathleen