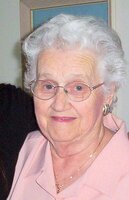 Gilberte Anne Marie Daigle
The family of Gilberte Anne Daigle announces her peaceful passing on December 25th, 2021 at Turnbull Nursing Home in Saint John after a life of over 100 years.
Born July 4th, 1921, she was the eldest of nine children born to Ernest Blanchard and Emerise (Demerise) Robichaud in Blanchard Settlement outside of Caraquet, N.B. where she grew up on the family homestead. Her Acadian ancestry traces back to the early 1600's.
She is survived by five of her six children: Francine (Harry Stevenson), Vancouver; Denise Daigle (Paul Elson), Saint John; Dee Dee Daigle, Saint John; Diane Stewart, Vancouver; Maurice Daigle (Catherine Currie), Saint John. Her only surviving sibling is her youngest brother Yves Blanchard of Village Blanchard. She is also survived by seven grandchildren, two great-grand-daughters, as well as many nieces, nephews and step-grandchildren. She was pre-deceased by her husband Joseph Eloi (Joe) Daigle and her son Louis Daigle, his wife Doris (Ward) Daigle, as well as by seven of her brothers and sisters.
Anne, as she was known to her friends, was a thrifty and enterprising home-maker with a good sense of humour. She used her skills to make hundreds of mittens and socks for her favourite charity, Romero House. She volunteered with the Red Cross at the Veteran's Hospital and was part of an honour guard for the Queen Mother's visit in the late 1960's. She loved travel and visited Europe, Hawaii, Eastern U.S. and Vancouver many times. It is testimony to the excellent care she received at Turnbull Nursing Home that she lived so long and the family is very grateful to the exceptional staff.
Arrangements have been entrtusted with Castle Fallsview Funeral Home, 309 Lancaster Avenue, Saint John, NB 506-634-1701. There will be no visitation. A funeral mass will be held at a later date. Donations in Anne Daigle's memory may be made to Romero House, local food banks or to a charity of your choice. Online condolences can be made at www.castlefh.ca